Boarding Kennels
One of the most stressful decisions about planning time away, whether it be for a holiday or a last minute emergency, is who can we trust to look after our four legged members of the family?
Being dog owners ourselves, we are very particular about who looks after our dogs, and that is why we are proud to be able to provide you with a First Class Boarding facility, that not only ensures they are in experienced hands, but also treated as one of our own.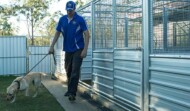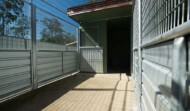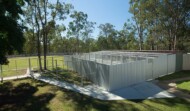 Our Boarding Kennel facility is situated on our own manicured 5 acre private establishment, and we accept All dogs, All year.
Whilst staying with us, each dog has it's own space with our spacious insulated kennels, which means no matter the time of year, we make their stay as comfortable as possible. They also receive an individual day yard, so they can stretch their legs and catch some sun at the same time. During their stay with us, they also get out once a day to investigate the 5 acres and maybe even have a swim in the dam.
All dogs are fed on a premium dry food during their stay, but if they have any specific dietary requirements, you are more than welcome to supply your own.
They also receive a complementary bath before they go home.
Please feel free to Contact us, for prices and availability.