Welcome to Excel Dog Training.
At Excel Dog Training, we understand that your dog is an important part of your family. Our main aim is to be able to teach you how to establish a relationship with your best buddy, that is full of Fun, Trust & Respect.
Watch our introduction video!
We pride ourselves on being able to offer you a vast range of dog training options.
Based in Greenbank, Brisbane, We pride ourselves on being able to offer you a range of different training options to help you establish & maintain a successful and balanced relationship between you and your beloved four legged friend, whether it be puppy classes and socialisation, basic through to advanced obedience training or helping you modify any unwanted, frustrating behavioural issues. We can guarantee we have a program to cater for all of your dog needs.
Our balanced training philosophy and techniques, allow us to help you maximize your relationship with your dog, as well as teaching you how to motivate your dog to make the entire learning experience fun and enjoyable for all.
About Us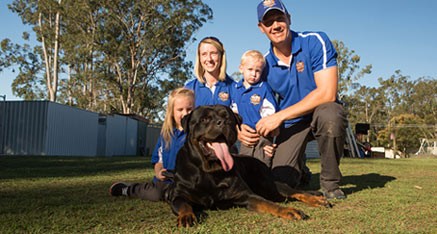 Excel Dog Training was developed with one main aim in mind, and that was to be able to provide affordable dog training solutions and results, when it comes to obedience training and modifying undesirable behaviours for dog owners.
Excel's Founder and Head Trainer Paul Andryc has owned and been involved with dogs for over 15 years, has accumulated over 5,000 dog training clients, and has a wealth of knowledge and experience to offer.
He has a great passion for working with dogs and their owners, helping them achieve the same success, that not only he has experienced with all of his own personal dogs, but also the hundreds of clients he has had during his time as a Professional dog trainer.
This passion continues to drive him, and he is constantly furthering his knowledge, so that he can continue to provide you the best possible results and solutions, with your dogs.
Paul has been fortunate enough not only to have undertaken training with some of the best trainers Nationally, but also attended training seminars with international trainers that compete on the world stage. He is a Nationally accredited dog trainer with a Cert III in Dog Training and Behaviour, and has a Cert IV in Training and Assessment as well.
"Dog training has evolved over the years, and it is a mistake to believe that there is only one way to train a dog. Every dog is unique, and what works for one dog, may not necessarily work for another, and that is why we offer you our balanced philosophy and training techniques, to help you maximize your relationship and ability to effectively maintain a balance in the family home".
"We look forward to sharing the Excel Dog Training experience with you"